I know you've probably read hundreds of NaNo blog posts, so, here's another one! YAY!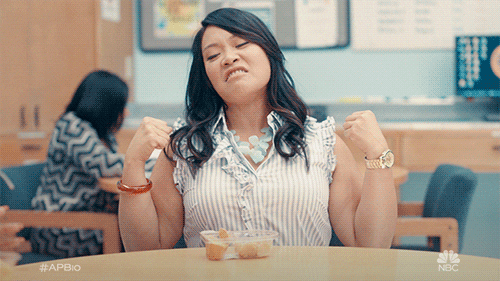 So right now we've hit the middle of the month on this little experiment and you've been killing it. Hitting par every day, you're watching those word counts go up and up. You're feeling like a gotdamn writer. Right? And then BAM! You hit the middle wall.
The beginning of a book is exciting and fun, it's something new with new characters and new worlds and new, made up words only you know the definitions to. It's so pretty and shinning and new! And you totally know the end of the book, you know if the good guy or the bad guy wins. You know if the world ends or if your rag-tag bunch of misfits saves the world at the last minute. You know it so perfectly well that you can see it like the epic climax of a movie scene. It is seared into your brain. You just gotta get to that part of the book.
And what is between you and the exciting end? The middle. 
I promise you, whether this is your first book or your fiftieth, the middle is The Worst for everyone. The action seems to slow, you're starting to wonder if it's any good, and if you can't get through the writing of the middle, who in the world is going to be able to read it.
I can make you another promise: it's not as bad as you think. The middle always feels terrible when you're in it and writing it but when you go back and read it later, you'll wonder why you hated it so much. Oh, it's gonna need some work, it's gonna need some rewrites and some editing, there's no doubt, but you'll find that you wrote what needed to be written. You'll find some exciting bits that make the action rise and fall naturally–after all, it can't all be rise. You just gotta get through it.
If you find yourself slugging through you can do a few things to make it easier. You can outline if you haven't. A lot of people new to NaNo tend to pants their writing but when you get to the middle you realize you're not sure where to go. Take sometime to plot out the next few pages, or even a full chapter so you have something to guide you for the next couple of days. If you're really stuck, just skip to the end and write scenes out of order. The only thing you need to do to win NaNo is submit a full 50,000 words–the website doesn't know if those words are in order, just get the words down and in December you can go back and fill in the middle.
That second option is a little scary, I know. When I get to a scene I don't feel like writing I'll just change the font and do this: AWESOME LOVE/FIGHT/ESCAPE SCENE HERE and then, when I come to it in review I can just add the scene in. 
Just don't give up. Remember, you're not alone when you're doing NaNo and you're not the only one who totally believes the middle part of their book straight up sucks. It doesn't, or at least, it won't. Just put the words on the page and come back to it later.
Also, BACK UP YOUR WORK. I email myself at the end of every day so I don't lose my work. Yesterday, I emailed myself twice because I had 2 large writing sessions. BACK UP YOUR WORK. I have lost work when my computer went into critical failure. I lost tens of thousands of words because it had been a couple of weeks since I emailed myself. NEVER AGAIN.