Here's the deal. My two kids are college age, and they're both the kind of bright, assertive young people who are gathering all over this country to demonstrate against police brutality and in support of #BlackLivesMatter. So far neither has been arrested or caught in any violence, but there have been some scary moments.
You know, I never did think to put, "Mom, I'm at a demonstration for farm workers rights and the Nazis are here and they have guns" on my short list of desired text messages.
So what do I do when the world is burning? I read romance. And how should we celebrate Pride in the year of our Lord 2020?
How about a list of novels featuring queer characters of all kinds by POC authors!
Some of these are old favorites, and some are new discoveries, and I hope you'll find a story our two that you love, even as they draw you outside of your normal routine….
Jude Lucens – Behind these Doors
This books is AMAZING. It's an award-winning polyamorous Edwardian romance that's had incredible reviews and is just so, so good. Behind These Doors is grounded in both emotional truth and historical fact, where the harsh realities of the time period amplify the story's sweetness and heart.
Buy Links for Behind These Doors
---
Holly Trent – The Plot Twist series
Holley Trent has created this fantastic trilogy of polyamorous romances that explore the ways men and women love each other. Each book features different characters and different romantic pairings, and if there's a common theme, it's that joy can be found in unexpected ways.
---
Red Envelope is short but lovely, and it proved to me how good own-voices stories can be. Atom Yang's eye for detail elevated the story and made it one I remember.
Buy Link for Red Envelope
(It's in KU!)
---
Adriana Herrera – Dreamers Series
True confessions: I have three of these on my kindle but haven't read them yet. I will, though! I've heard so many, many good things about them. Here's a peak at the author's blurb for the series:
The Dreamers series follows best friends— Nesto, Camilo, Patrice and Juan Pablo. Four Afro-Latinx men who came up together in the South Bronx, as they chase after their dreams and get unapologetic happy endings.
---
Courtney Milan – Mrs. Martin's Incomparable Adventure
This book! I'm not quite as old as Bertrice and Violetta, but oh did they resonate for me. I laughed and I cried and I fell a little bit in love with their story. Courtney's known for writing m/f romance, but she has a couple of stories with queer characters that are definitely worth checking out.
Buy links for Mrs. Martin's Incomparable Adventure
---
Cole McCade/Xen – Shatterproof
I gotta be honest. Xen/Cole McCade is an excellent wordsmith, whether he's writing freaky dark stuff as Xen or contemporary romance as Cole. I haven't yet dared Shatterproof, though my writing partner Irene loved it. She also really liked The Whites of their Eyes: A collection of queer horror, also by Xen. My taste runs closer to His Cocky Valet, book 1 in Cole's Undue Arrogance series. See? There's something for everyone!
Buy link for Shatterproof
Buy link for His Cocky Valet
They're both in KU!
---
Alyssa Cole – Once Ghosted, Twice Shy
This book intrigues me. It's the only f/f story in Alyssa Cole's Reluctant Royals series, and the cover is just so very good. Alyssa's known for her m/f contemporary romances and especially for her Loyal League series of historical romances, which, hey, I'm a history nerd, so they're totally my thing.
Her award-winning Loyal League series – An Extraordinary Union, A Hope Divided, and An Unconditional Freedom – are set in the Civil War era South. The characters in these m/f romances are black, and they're strong and they're real, and they find love.
Once Ghosted, Twice Shy on Goodreads
---
Talia Hibbert's another author who's better known for writing m/f romance. She has such enthusiastic fans that I was jazzed when I heard she'd written an m/m romance. But see, I do this thing where I'll catch the buzz when a book is coming out and I'll get all excited and preorder it and then when it finally releases I won't want to read it because I don't want to spoil the anticipation. Or thereabouts. Anywhoodle, I've had Work for It on my kindle since its release day and between that gorgeous cover and all the great reviews, I really do need to bump it to the top of the pile.
---
Witchmark is a historical fantasy, and while it's not technically a romance- romance, there's a queer love story in an amongst the magic. Here's a snippet from an enthusiastic review:
"Polk has created an amazing new world with hints of Edwardian glamour, sizzling secrets, and forbidden love that crescendos to a cinematic finish. WITCHMARK is a can't-miss debut that will enchant readers."
—Booklist, starred review
---
Rebekah Weatherspoon – Treasure

Rebekah Weatherspoon writes romance and erotic romance and kink. She's also something of a fireball on twitter (@RdotSpoon), and she organizes WOC in Romance, a website that's dedicated to promoting books by authors of color. (You can also support WOCIR on Patreon to help them get the word out.) I've heard Rebekah speak at a couple of conferences, and while she's written a number of f/f stories, for this post I wanted to highlight Treasure because her in-person enthusiasm for the book made me want to read it!
---
Bonus
Tom & Lorenzo – Legendary Children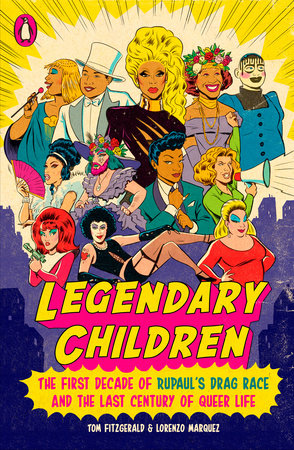 This is not a romance (oops!). As the subtitle says, it's an examination of the first decade of RuPaul's Drag Race and the last century of queer life. Tom Fitzgerald and Lorenzo Marquez are two of my very favorite bloggers, and at Tom&Lorenzo.com they go about judging celebrity fashion, television, and life in general with a healthy mix of take-no-bullshit and give-credit-where-its-due. They've been writing about RuPaul since Drag Race started, and in Legendary Children they bring wit and insight and compassion to this serious look at queer history that manages to be both informative and very, very funny. Highly recommend!
Legendary Children on Penguin/Random House
---
If you want to keep going, look for books by Avril Ashton, Riley Hart, Robin Covington, Ada Maria Soto, or Jude Sierra. You can find even more rec's on this master list from the POC Queer Romance Authors Community
And….if you're around and about, here's a list of black-owned bookstores for you to support, compiled by Brain Mill Press:
Brain Lair Books, South Bend, IN
Cafe Con Libros, Brooklyn, NY
A Different Booklist, Toronto, ON
The Dock Bookshop, Fort Worth, TX
EsoWon Books, Los Angeles, CA
EyeSeeMe, University City, MO – children's books
Frugal Bookstore, Boston, MA
Harriet's Bookshop, Philadelphia, PA
The Lit. Bar, Bronx, NY
Loyalty Bookstore, Washington, DC
Pyramid Books, Little Rock, AK
Semicolon, Chicago, IL
Sister's Uptown Bookstore, New York, NY
Source Booksellers, Detroit, MI – nonfiction
Uncle Bobbies Coffee & Books, Philadelphia, PA