Following Nicole's awesome post from last week is not an easy task, but I'm gonna try. If you haven't read it yet, do yourself a favor and go read it now. I'll wait.
When Nicole brought up the resurgence of witches in the late 90's, it got me to reminiscing about me and my friends being swept up in that New Age renaissance, which would eventually lead to inspiring my very first book, Earth: Book One in the Elemental Series.
And that led me into thinking about inspiration and what has worked for me to think of story ideas. Since we're talking about witches, I'm gonna stick with those stories right now.
Like I said above, my first book was inspired by my friends and I discovering witchcraft and Wicca in high school and finally feeling something like normal and empowered. Obviously, the story evolved into the fictional story that you can read now, but it was very much about wanting to have those awesome, magical abilities and what would have happened if we did. We were obsessed with The Craft and Hocus Pocus and those types of witches.
My next witch story came to me thanks to none other than Chuck Wendig. I know what you're thinking, wait? That bearded weirdo? Doesn't he write Star Wars stuff? How did he inspire a witch story?
So Chuck is a pretty cool dude and has a lot of writing advice if you ever feel yourself stuck, go check out his blog.
He used to have Flash Fiction Fridays. I didn't always participate, but occasionally he'd have a prompt that would spark an idea in my mind that I couldn't ignore. There were two that helped me start the very first Matilda Kavanagh Novel: Wytchcraft.
Chuck likes profanity. No. Sorry. Chuck LOVES profanity. He's a master at it. A life-long love affair has made him an expert at creating new and exciting profane words and phrases you might never think of. That love made him give it as a prompt one week. That was it: a 1,000 word story focusing on profanity.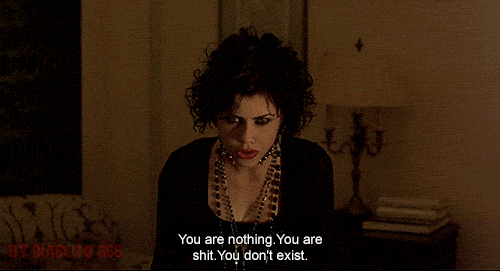 Of course the key word there was "story." Couldn't just be a character spewing filth for the fun of it.
A spunky, dark-haired woman burst through a door in my mind, angry and vengeful and full of biting profanity.
"Dirty little numb nut bastard!" I threw my keys into the bowl on the table by the front door, slamming the door shut with a kick. "Goddamn fucking gremlin thinks he can cheat me!" I screamed at the ceiling.

"Mrrrow!"

"Ugh," I sighed. "Hello baby," I bent down and scooped up my cat, Artemis, before I tripped over him. He purred loudly in my arms becoming boneless as I buried my face in his fur, stepping out of my wet shoes, kicking them away.

"Alright, Artemis, it's time for Mama to perform a little payback for that shit-faced dick weasel," I whispered, feeling a sense of giddiness come over me as I walked into the kitchen. I set Artemis on the counter and poured him some cream from the fridge so he'd let me work in peace.

"So he asks me to make him a fucking spell. I make the fucking spell. I gave him the fucking spell. And what does that stupid mother fucker do?" I asked the cat as I slammed my spell pot on the stove top. "He stiffs me!" Sparks erupted from my fingertips in blue and white in my anger.

"Says he doesn't need the spell anymore. Says I took too long to brew it. I told that maggoty piece of dog shit that it would take a week to brew! A whole fucking week of my life out the goddamn window!" I snatched a wooden spoon from the utensil holder on the counter, spinning it in my hand. "Well this is one bitchy witch he shouldn't have fucked with!"

"Mrow?"
And thus, Matilda Kavanagh was born.
A second writing prompt he gave, for a quick 500 word flash fiction, was to pick the name of a cocktail and let it be your inspiration. Luckily, I have a few cocktail recipe books so I grabbed one and had a look and found "Irish Gold."
I don't remember why it stood out to me, but thanks to that, the race of Royal Fae came to me, another building block to Mattie's world and I had the opening of her first story. A troll had stolen a Fae's clover to blackmail her into giving him riches, but you know what they say, Never trust the Fae. And the troll's greed would get him into a world of trouble and he would drag Mattie into it.
Thanks to these two totally unrelated writing prompts, I'd thought of a brand new main character and started world building around her and would eventually have eight novels worth of her adventures.
It's been a long time since I've used a writing prompt to help me think of a story, but if you're finding yourself stuck, it might be something that helps turn the key in your lock.
Look at a picture you didn't take and try to think of a story unfolding on the canvas.
Listen to a song, something obscure, and unspool the lyrics into a novel. Or even just the title.
Wonder, what would happen if you found a door in the middle of nowhere, open it, where does it lead?
Sometimes all you need to build an entire world is the first stone in a wall, whether you're placing it or pulling it out to make it all come falling down.